The Wooden Camera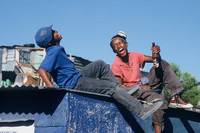 Madiba and Sipho
South African film output has been very limited in subject matter and creativity. Often it's been dogged by having to deal with South Africa's complex history and issues of race. In so doing it was often done literally in naive and simplified terms. So it was with allot of hope and trepidation for something better when I attended the inaugural London South African film festival.
The Wooden Camera is set in Kayelitsha, a township close to Cape town, after the end of Apartheid. Two thirteen-year-old kids- Madiba and Sipho - play along the railway line. A train passes by. A dead man is tossed from the train and rolls to their feet. His lifeless hand clutches an attache case. Inside, the boys find a gun and a video camera. Sipho takes the gun and Madiba the camera. Their destinies are sealed.
Ntshavheni Wa Luruli's the Wooden Camera deals with race. It has done so without the usual cliches. Wa Luruli's film has a light touch and the story flows effortlessly. It would seem that he likes people. Throughout the movie he motivates and establishes some sympathy for almost all the character's actions.
Some criticism. The scene where Sipho is shot could have been done more dramatically. Wa Luruli had created the requisite sympathy and dread for Sipho. But the moment he was shot was revealed in an instant (on a TV broadcast) and some of the drama lost.
Was it necessary to give Estelle's father a pretext for being racist/ classist? Why not just portray him a bigot and leave the audience to think about why he was this way? The explanation offered was just too easy.
All in all a good movie, with an excellent concept, well shot, and good acting performances. It looked so effortless.
Format: 35mm
Year of Production: 2003
Directed by Ntshaveni Wa Luruli
Writing credits
Yves Buclet written by
Peter Speyer co-writer
Cast
Jean-Pierre Cassel - Mr. Shawn
Dana de Agrella - Estelle
Innocent Msimango - Sipho
Lisa Petersen - Louise
Junior Singo - Madiba
Produced by
Olivier Delahaye - producer
Ben Woolford - co-producer
Cinematography by
Gordon Spooner
Film Editing by
Kako Kelber
Casting by
Nathalie Cheron
Moonyeen Lee
Production Design by
Jean-Vincent Puzos
Sound Department
Thomas Desjonquères - sound editor
Other crew
Edouard Dubois - music consultant
A synopsis of Ntshavheni Wa Luruli's charming second film can be found
here
.