Jump the gun is arguably one of the best and most mature efforts in South African cinema to date. Arnold Shepperson, reviewed it in 1997.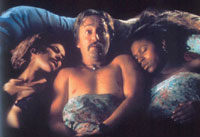 Jo'burg frolicks - The sparks fly

JUMP THE GUN
Living in hell and loving it – that's the premise of Les Blair's acute comedy, Jump the Gun, which won six South African film awards.
SYNOPSIS
In Jump the Gun, Clint, a sparkie (electrician) who earns his living working on oil rigs, has come to Johannesburg for a rest and vacation. For him, this means alcohol and sex (when he can get it). But once he arrives back in his home town, he realizes that things have changed. Johannesburg has become very `African'. Gugu, a beautiful and ambitious woman with similar interests also arrives in the city on the same day, running away from her problems with men. As they each work their way through the shebeens and bars of Johannesburg and Soweto, they encounter damaged survivors of the old South Africa, now learning to co-exist in the new. It's a hard world but always bristling with opportunities. Clint and Gugu end up sharing a bed together. This provides the opportunity for Clint to have his first proper conversation with a black woman.
SYNOPSIS
This film depicts the ways white South Africans succeed (or fail) to negotiate their country's political transition. Lionel Newton's portrayal of Clinton, a retrenched white electrician, and Baby Cele's stunning performance as Gugu, the refugee from KwaZulu-Natal's poverty and violence, are signs that South African cinema has plenty of depth in performance.
The film's starkly realistic depiction of black township life - set in Alexandra - reveals the seedy underbelly of a society in transition. Thulani Nyembe as Bazooka the gangster plays up victimhood at the expense of the choices people had to make during the struggle.
The strength of the movie lies in its performances, developed through a system of workshopping based on the South African performers' actual immersion in the worlds their characters inhabit. The scene in the gun shop is itself almost worth the price of admission. The long shot in which all three white men mime their fantasies with unloaded weapons is both perfectly delightful and entirely in character with South African white male subjectivities.
(Reviewed by Arnold Shepperson, 1997)
The script for 'Jump the Gun' emerged from months of workshops where the actors developed their characters. Being character driven the locations had to suit the characters and we had to recce hundreds of locations before the right ones were found. These tended to be low life bars, shebeens, brothels and seedy hotels.
-
David Barkham
(Production Designer)
1996. Produced by Indra la Lanarolle. Channel 4, London.
Cast
Director >> Les Blair
Screenwriter >> Les Blair
Baby Cele >> Gugu
Lionel Newton >> Clinton
Michele Burgers >> Minnie
Thulani Nyembe >> Bazooka (Zoo)
Rapulana Seiphemo >> Thabo
Danny Keogh >> J.J.
Joe Nina >> Henry
Nomsa Nene >> Sis Buleng
Marcel Van Heerden >> Johnnie
Vanessa Cook
John Simon Jones >> Gun Shop Owner (as Simon Jones)