SA features at the London Film Festival
Four South African features will show at this years London Film festival.
Lilhe Mvelase as Leletu Khumalo

Yesterday
Young mother Yesterday (Leleti Khumalo) lives in Rooihoek, a remote village with meagre resources, with her daughter Beauty (Lihle Mvelase), while her husband (Kenneth Khambula) is away working in Johannesburg's mines. Falling ill, she struggles to see a doctor, never guaranteed a consultation after walking the long distance to the medical centre, which is only open one day a week and always oversubscribed. When she finally gets an appointment, she is diagnosed as HIV positive. Devastated, she goes to visit her husband who refuses to accept the situation, and Yesterday is left to fend for herself, desperately hoping she will survive long enough to see Beauty go to school.
Stander
A bravura actioner, Stander tells the story of Andre Stander, a police captain celebrated as an outlaw when he turned notorious bank robber and became an embarrassment to South Africa's Apartheid authorities in the late 70s and early 80s.
Max and Mona
A quirky combination of love, tears, death and comedy, Max and Mona presents South African contemporary life through the droll and eventful journeys of Max Bua, a 19-year-old village bumpkin who has an extraordinary talent of crying at funerals and is held in high esteem by the village community.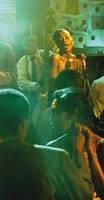 A scene from Drum

Drum
Set in Johannesburg, Drum depicts Sophiatown of the 50s, the breeding ground for resistance, a vibrant place, full of music, love and laughter.