Oppikoppi 2004 Band line up
The bands (in Alphabetical order) in their own words - so you have to take their word for it....
Read more about Oppikoppi
here
.
16 STITCH
Hotly tipped to be one of the major South African hard rock successes of the year 2003. Having only been together for a year, they have already established a significant reputation on the underground scene, and can claim connections to such bands as Seether, Pestroy, Marlowe, Evenflow, Not My Dog and Wickhead to name but a few.
340ml
In a musical scene dominated by just a handful of starkly hewn genres, 340ml brew a music concoction that pulls down boundaries with ease and is set to make a lasting impact on the global music scene. This southern African four-member group, currently based in Johannesburg but with its roots firmly planted in Mozambique, has already released an album that's earned it critical praise and opened the doors to a seriously busy gigging schedule (among their gigs in 2003 was a very well a received slot at the annual Oppikoppi festival). Casting a musical glow that speaks of hazy beach sunsets, languid afternoons and blissed out summer fun.
Part of 340ml's ability to create music that's fresher than an early morning sea breeze comes from their collective youth, spent in Maputo where a sure-footed belief in their ability to be something special threads through their early lives. An unquestionably Latin music influence and subtle Traditional Mozambiquan sound make the groups music all about plump bass notes, beats that get even those non-Mozambiquan fans tapping the table, guitarwork that's just the right balance of melodic and low-key and vocals at times seem like another instrument in the musical mix.

Springbok Nude Girls

ARNO CARSTENS' NEW PORN
Arno Carstens is one of South Africa's most revered vocalists. He has performed for 8 years as the lead singer of one of SA's most celebrated rock bands: The Springbok Nude Girls.
He is now working as a solo artist with the project band New Porn. Their album, Another Universe, released in September 2003 is a departure from Arno's typical sound, reflecting growth in musical interpretation whilst staying true to the honesty and power of his vocal ability.
Arno has a profound vocal range. His performance ability spans unplugged guitar & string sessions that are commercial, melodic and tender, through to heavier, alternative rock music.
ARSENAL (BELGIAN)
ASHISH JOSHI AND GREG GEORGIADES PRESENTS STRINGS AND SKINS
Strings and Skins play rhythmical interpretations of North Africa and South African improvisational styles. Their Afro-Asian hybrid beats are plaed on traditional instruments, such as the Indian percussion drums (the tabla), played by Ashish and the North African fretless lute (oud), bouzouki and nylon string flamenco guitar, played by Greg.
ASHTON NYTE
Ashton Nyte is a singer, songwriter, composer, enigmatic performer, studio musician, engineer & producer, graphic artist, actor & record label owner. His stylistic influences range from rock to electronica, from jazz-induced trip-hop to acoustic minimalism and beyond. He has written and performed in theatre pieces, large stage rock shows & intimate cabaret-type performances.
BAND O GYPSYS
From opening for Uriah Heep and Deep Purple in Cape Town in 1995 to biker orientated gigs, rallies and day jols. A band brewed with time, love, patience and unyielding will of original lead guitarist Peter Pulvenis and his wife Lyn, the Band O Gypsies have in their own magical style, influenced and stirred the deepest emotions in fans countrywide. From toddlers to hardened veterans - some now with hearing impediments! This is still the longest, currently operating rock band in the history of SA music and the sun is nowhere near ready to set on this scene.
BATTERY 9
One of the very few "Industrial" bands in South Africa, Battery 9 is the brainchild of Paul Riekert, who writes the lyrics and music, and sings, plays, records and produces most of what appears on the CDs in his digital home studio. He is joined on stage by two very talented individuals: Huyser Burger - the DJ, live action painter and MC, also known as DJ Fokolnonsens (Fuckallnonsense), and André van Rensburg - the guitar player, known for his work with Supernature and Ohm.
The lyrics (in Afrikaans and English) examine the darker side of the human psyche, driven by distorted vocals, loud guitars, and relentless beats. It contains a fat dose of cynical humour, twisted electronica, and abrasive sounds from industry. The live act contains unusual aspects like action painting, and is demanding, explosive and equally extreme, and the audiences reflect that. Basically, subject matter and sounds the neighbours get upset about.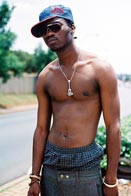 Mxo

BED ON BRICKS
BED ON BRICKS is one of Cape Town's hottest live music acts. Featuring some of the most popular and seasoned musicians in the country, BED ON BRICKS entered the scene with a bang almost one year ago.
The four piece sports Mike Hardy on lead vocals and saxophone, Schalk van der Merwe on bass guitar, Dave van der Linden plays the lead guitar and Tim Rankin on drums.
BLUES BROERS FT OLLIE VILJOEN
Based in Cape Town, South Africa, the Blues Broers have been touring, writing and recording music over 12 years.
BLUNTED STUNTMAN (DJ)
To use his own description, "I play a smooth mix of Big Beat, Nu-Skool Breaks, 2-Step Garage, Acid Funk, Drum'n Bass into some Hi-Fi lounge/dub, Ninja/Grand Central Hip Hop, Jazzanova, Kruder & Dorfmeister style coffee shop beats. From a Festival to a Cafe', I have played South Africa. I would like to play my sound internationally and play my "Elektrik ZA" set of South African electronica; while at the same time bringing the albums I represent to set up connections for the South African underground dance scene."
BOO!
Boo! consists of three members. The genderless phenomenon, Miss Chris Chameleon, is the bass player, lead vocalist, and writes all the music and lyrics. Princess Leonie provides extremely unconventional, yet wildly rocking beats on the drums. The blonde bombshell, Ampie Omo, produces the rest of the colorful spectrum of sounds on his trumpet, trombone, keyboard and percussion instruments.
Boo! entered the South African music scene in October 1997, with their mind-bendingly weird, though deliciously consumable sound. The band describes their music as "Monki Punk", because it breaks away from the usual combination of bass, drums and guitar, and substitutes the guitar with brass and keyboard sounds.
BRADLEY BIONIC (DJ)
BRIXTON MOORD EN ROOF ORKES
The Brixton Moord & Roof Orkes is one of the leading acts of the new generation of Afrikaans rock bands. Since their first appearance at OppiKoppi in April 2000, their sound has evolved from folk to rock. Like a number of other successful acts from Johannesburg, the Brixton Moord & Roof Orkes cut their teeth in the gutters of Brixton - at the Abelarde Sanction, Joburg's legendary but now defunct underground venue.
BUCKFEVER UNDERGROUND
The Buckfever Underground are a band of writers, film-makers and aspirant tycoons who like to throw what they have in a big pot, mush it up and spill it on the carpets of other people (some of who they know and love). Their most recent release, 'TAFL - Teaching Afrikaans as a Foreign Language' was critically acclaimed (really) by everyone except Die Burger and has shifted a monumental 78 copies nation wide. Which just goes to show.
CUTTING JADE
The latest addition to Cutting Jade is their new vocalist Logan. After leaving David Gresham Records and losing their vocalist early in 2004 the future for the band seemed uncertain. However it was going to take more than just a touch of controversy and a line up change to get this band down. In walks Logan, a twenty year old marketing student at the University of Pretoria. With his powerful voice and "what you see is what you get" attitude, this youngster has breathed new life into the band and not even three months after the line up change Cutting Jade is on the verge of recording their third (as yet untitled) studio album which by all accounts promises to be their best effort yet. Goodness knows they have been through a lot since the release of "Between two Lives" and have not only grown as musicians but, more importantly, as people.
DAN PATLANSKY AND THE MISSISSIPPI MUTHERS
The band was formed in 2000 to play at Sun City and was such a success that they started performing weekly in Johannesburg at various vanues. The band is taking blues lovers all over the country by storm. Dan Patlansky has been voted as best Blues Guitarist is Johannesburg and has performed with many other musicians like Albert Frost, Larry Amos and many more.
DAVID FOSTER
Dave (together with some of the country's hottest young artists) has been playing his original material for some years now. He has won the hearts (and competitions) of Cape audiences he has played to by writing songs that show off his love for acoustic-rock and world music, sometimes bordering on jazz. This is no ordinary strummer of the 'lip service to Bob Dylan'-archetype, or the student wannabe's that play for party tricks.
David has a style that can be seen to come from meditating on the wavelength of his heart, carefully weaving the arrangement and the lyrics, to stay fresh, true and avoid the cliché. The songs are rhythmically oriented, melodically prolific and diverse - he does not hide his influences: Dave Matthews, Sting and the Beatles.
Most importantly, he has the deep voice of a man remembering the intensity of childhood with wonderful range of falsetto. The most noticeable, and proving characteristic of Dave's performances is that he holds the audience in trance especially when playing without the safety of his band. (Stage Magazine)
DELTA BLUE
When it comes to the Blues, it doesn't come better than Stellenbosch band DELTA BLUE. This young and vibrant five-piece presents the genre in their own unique way, while remaining faithful to the age old Blues tradition, and has audiences young and old tapping their feet to a Blues-vibe which is both unique and authentic.
Lead-vocalist Gerald Clark heats up the Blues with his harmonica, rhythm guitar and a very special voice: "It's as though the god of Blues has sent one of his sidemen down to wrap his vocal chords in velvet, cover them in honey and once the honey had crystallised, filed it to a sufficient roughness to create a perfect balance between grizzly and smooth" (SA Rock Digest) Gerald is supported by keyboard player Riaan Nieuwenhuis, bassist Schalk van der Merwe, lead guitarist Henry Steel, and Jacques Schutte on drums.
DJ BOB
It was twenty years ago this month that DJ Bob bought his first record and began playing music to the unsuspecting people of Bethlehem. Since then he has built up an impressive selection of the finest Funk beats this side of the Free State, and having played 17 OppiKoppi festivals already, knows how to rock the crowd like nobody's business. Check out the live set on Sunday with Greg Georgiades and Hashish Joshi.
DJ BOB, GREG GEORGIADES AND ASHISH JOSHI
FAKE LEATHER BLUES BAND
Die FLBB het net meer as 'n jaar gelede ontstaan uit jam-aande by The Nile Crocodile in Pretoria. Conrad Jamneck het een aand amper in sy shooter verstuk, toe 'n sogenaamde Peter Toussaint uit Holland begin kitaar speel het. Franco Jamneck (Soil7t7) was toevallig daar en het op die bass gespring. Gideon Meintjies (Scicoustic) het agter die dromme in geskuif, met Conrad op vocals…siedaar, The Fake Leather Blues Band is gebore!! Van toe af het die band al meer lede as die Drakensberg Seunskool gehad. Soos Riaan van Rensburg (dromme), Anton Beukes (Bass), Jaco Mans (kitaar en bass), Nathan Smith (dromme), Stefan Dixon (bass), Cat Stevens (backing vocals)… jammer aan die wat nie gemention is nie!! Met 5 keer meer gigs as rehearsals, is FLBB ald school Bar Room Blues, met 'n double shot Rock 'n Roll!!
FLETCHER (DJ)
FOKOFPOLISIEKAR
"It's on TV. It's in your brain. It's awful witnessing the sheep mentality creeping in up us. We are all working together towards a South African America. That's the fault in our prevailing thought pattern."
Fokofpolisiekar was formed during April 2003 by a group of friends from Cape Town with communal passion for art and music. After years of discussing the possibility of an Afrikaans band and being frustrated with the state of the local music scene in South Africa, these five friends decided to produce a EP in their own way. It would carry strong symbolism of the Fokofpolisiekar lifestyle and their perspective on everyday life. An insight on the band's personal lives and a style of music they and their generation can relate to.
FRESHLY GROUND
Singing in three different languages (Xhosa, English and Afrikaans) Zolani Mahola. Freshlyground is indigenous African folk mixed with jazz, soul, kwela and dance hall music. It is passionately South African.
Six months after forming they were asked to play at the Reconciliation Day Concert at The Cape Town Company Gardens alongside the likes of Jimmy Dludlu and Jonas Gwangwa. Playing at numerous music festivals including the Harare International Festival of the Arts and the Robben Island African Festival. Freshlyground were invited to HIFA 2004 as the South African representative for the festival, where they headlined the closing ceremony, performing a song with Zimbabwean icon Oliver Mtukudzi. 2004 started off with what was arguably Freshlyground's career highlight to date, playing before President Thabo Mbeki at the opening of Parliament.
GERT VLOK NEL
Die tunes wat al as "lonesome-jubilee-karoovlakte-blues" beksryf is, is landswyd bekend. Songs soos "Beautiful in Beaufort Wes", "Timotei Shampoo", "Rivier" en "Moenie my alleen agterlaat nie" het al hul plek in menigte harte gevind en sal waarskynlik in jare as absolute classics gevestig word.
Min mense weet egter dat hierdie songs, waarvan baie deur meer hoofstroom kunstenaars bekend gemaak is, deur die media sku Gert Vlok Nel gepen is. Gert Vlok Nel het in 'n relatiewe kort tydtjie 'n kultusfiguur onder 'n geselekteerde groep mense geword. Daar is 'n besliste mysterieuse aura rondom hierdie sanger wat daartoe lei dat sy baie skaars vertonings gewoonlik stampvol is met fanatiese aanhangers wat elke woord kan saamsing.
GORDON'S SUITCASE
Gordon's Suitcase creates restless, ambient soundscapes. Using the familiar configuration of bass, drums and guitars to create their unique instrumental compositions. Unafraid to experiment, occasional guest artists are used to consolidate and deepen the music using diverse instruments such as didgeridoo and horn section. Gordon's Suitcase comprises of Rainier Prins and Illimar Neitz on guitar, Malcolm Ross on bass and Jako Loots on drums.
GREG BOWES (DJ)
Greg Bowes has been involved in music in various capacities for 15 years. He was shop assistant at Yeoville's Moist Records, international label manager at sadly-defunct indie Tic Tic Bang! and ran his own Silverfish label early in the millennium. He's also a website editor and a music writer who's been published in Mail & Guardian, This Day, Elle, Y, SL, Get The Funk Out, rage.co.za and inhaleX. Deejaying his own inimitable brew of electro-funk (a miscellaneous selection that can include anything from soul to house to breakbeat), he's done time at venues like Foundation, 206, Carfax, Tokyo Star and the Secret and Looking for Love parties, as well as at festivals like Oppikoppi and Desert Storm. He's spun with Afterglow and vocalist Ziza (as Suplex) and with Kid Fonque and singer Philadelphia Shayi (as Unsound), and has shared bills with Luke Vibert, Charles Webster, I:Cube, DJ Deep, Aphrodite, DJ Hell, The Runaways and more.
GREG GEORGIADES AND ASHISH JOSHI PRESENTS STRINGS AND SKINS
Strings and Skins play rhythmical interpretations of North Africa and South African improvisational styles. Their Afro-Asian hybrid beats are plaed on traditional instruments, such as the Indian percussion drums (the tabla), played by Ashish and the North African fretless lute (oud), bouzouki and nylon string flamenco guitar, played by Greg.
HONEY B (DJ)
A classic selector, jazz influenced and well known to Cape Town audiences, appearing for the second time only in Johannesburg ... plays tunes across the genres, all very dope.
Currently enjoys playing alongside the infamous dj trouble, as well as mix 'n blend's Kevin and Jon... not forgetting regular partners in crime the boogieman and blunted stuntman! Cape Town residencies include Joburg bar in long street, Caprice on Camps Bay beach, Mystic Boer in stellenbosch, african dope parties and downstairs at the homegrown ... previously massive support slot: dj Cam at Vudu lounge.
"i love the possibilities of combining the organic with the electronic .. and i'm never scared to madly contrast genres in the same set. lap steel hawaaian sounds are doing it for me at the moment ....
"
JACK HAMMER
November 2004 marks the 20th anniversary of the band known as Jack Hammer.
Jack Hammer is more than just a band - it is a roundabout of musicians. A collective that over the years has included amongst its members American Oscar-winning actor Billy Bob Thornton, McCully Workshop keyboard wizard Rupert Mellor, Kwaito master producer Gabi le Roux, Not My Dog guitarist Lanie vd Walt, prog-rocker Kenny Henson, Blues Broer Simon Orange, saxophonist supremo Mike Faure, and many, many others. As band roadie Hendry Jackson (who is immortalized in the song 'Laat Die Wiele Rol') said, "I have seen many Jacks, so to speak, come and go in my time, I tell you."
JAN BLOHM J
an Blohm is Sunnyside Karoo Gronk. Hy is reeds daarvan beskuldig dat hy Ben Harper meets Theuns Jordaan is, maar hou vol dat hy eerder 'n elektriese digter is. Blohm word goed ondersteun deur Die Ware Noord, wat bestaan uit Bass speller Faber en Wayne David Son op dromme. Sy debuutalbum, Melkstraat Confessions, het begin van die jaar op winkel rake verskyn.
JO DAY
In the mere two years that Jo Day has been on the SA Rock scene, she and her B.A.N.D. (Bad-Ass Nocturnal Dudes) have released three highly-acclaimed albums, amassed an astonishing nine radio hits, released three music videos, performed amongst the headliners at fifteen major festivals, and acquired a veritable army of dedicated fans.
Her peers have dubbed her "The 'Jo of Arc' of SA Rock".
Her band is hailed as "One of SA's greatest bands".
The media, fellow bands and fans alike call Jo Day "The Queen of SA Rock".
KAREN ZOID
Born in Brussels as the daughter of a South African diplomat, Karen grew up in Belgium and Johannesburg where she became a teenage busker, honing her songwriting, guitar playing and singing skills on the streets of Melville.
In June 2001 EMI released Zoid's first solo album, Poles Apart, which fired the imagination of both critics and the public to such an extent that Karen Zoid became an icon of the South African youth, which the press renamed the Zoid Generation. In 2004 both Time Magazine and US News & World Report highlighted her role as an icon.
Touring the country and often headlining major festivals, she is supported by her accomplished band members Don Reinecke on lead guitar, Llewellyn John on bass and Etienne Oosthuysen on drums and percussion.
KARMA (Cancelled)
South Africa's celebrated pop chanteuse Karma-Ann Swanepoel achieved national success in late 1996 with the release of her debut album "Slap In The Face" under the moniker Henry Ate at the tender age of 21. In 1998 Karma released her second album. The album was titled "One Day Soon". Henry Ate went on tour that year with South Africa's most popular artist, Johnny Clegg. The year was capped off when Karma won Pop Album Of The Year at South Africa's SAMA awards (South African equivalent of the Grammy) for "One Day Soon". Karma accepted the award as Henry Ate. The S.A. Video Awards followed and Karma won video of the year for "Tuesday Afternoon". Henry Ate was soon headlining every major music festival in South Africa, and toured with Garbage in 1999.
After all the success, the ravages of the music business, Karma has emerged with a healthy outlook, currently writing the best songs of her young career and is ready to show the rest of the world what South Africa already knows. Here is an amazingly prolific young songwriter who is teetering on the brink of worldwide recognition.
KID FONQUE (DJ)
Since the far of days when Kid Fonque was messin' about with downbeat and hip hop, legendary and original "Liquid Lounging" (now Lilo productions) picked up on the flavour and booked Fonque for numerous classic underground parties including "More Togetherness" and "Bass and Blues".
As nodding your head in chill rooms, 2nd floors & back bars in the Late 90's early 2000's was happening more often, a 2 ½ year residency at 206 came his way.
With a passion for music and a open environment to play in, Fonque's taste and selection grew, instead of noddin' the whole night you where finding yourself breakin', noddin', samba'n, and groovin' to an amalgamation of sounds.
Friendships and essential partnerships came from this open-minded playing; soon enough Troy (Inspirit recordings) would join kid on his musical excursions.
Including a yearly partnership with G-Force at Rustlers called the "Eclectic ride".
A variety in styles and flavours started putting Fonque on main floors rockin' a different beat- housy, broken, nujazz, breaks whatever it was you where sure to hear consistency and quality throughout.
KID FONQUE (DJ) VS REDWOOD (DJ)
KOBUS!
Founder members Theo Crous and Francois Breytenbach Blom are joined by new recruits Rob Nel on Bass and Paul Blom on drums. KOBUS! delivers a frenetic black humor-horror stage show with songs from their new album 100% Skuldgevoelvry.
KOOS KOMBUIS
When Koos Kombuis and Valiant were invited to the little Oppikoppi bushveld bar, which doubled as a small time bushveld bungalow rental business; the intention was actually much more personally hedonistic. The family liked the tunes and was mildly surprised to find out that they actually accepted the invitation.
Koos Kombuis was one of the first bands to play at Oppikoppi. His tunes are old favourites and this South African music legend will be one of the not to be missed performances at the Oppikoppi 10 Birthday festival.
LAURINDA HOFMEYER
Die vertrekpunt van al Laurinda se musiek is gedigte. Die eerlike en sielvolle vertolkings spreek tot poësie liefhebbers sowel as rock-en-rollers. Sy begelei haarself op klavier en word verder bygestaan deur van die land se voorste musikante soos Schalk Joubert, Barry van Zyl, Mike Rennie, Nic Turner, Albert Frost asook Nina en Lise Swart. Sy word gehoor by al die groot kunstefeeste en die musiekfees, Oppikoppi. Tydens 2003 se woordfees op Stellenbosch deel sy ook die verhoog met Laurika Rauch en Valiant Swart in die produksie Die skoene wat jy dra.
LIELA GROENEWALD
Liela has been making music since she was at school. She sings rather nicely, but has unfortunately never learned to play the guitar properly. Her favourite gigs nowadays are at Oppikoppi Festivals. It is with the encouragment of the Oppikoppi Crew that Liela took to the stage as a solo act again.
LOOSE CANON
Loose Cannon is a Pretoria based South African hip-hop group and consists of two members, Midas Touch (Craig Moeti) and Sultan (Mpande Simelane). The band was formally established between the latter part of the year 1999 and early 2000.
In their time around, Loose Cannon has shared stages with local Hip Hop artists such as Brasse Van Die Kaap, Ready D and Godessa to rock groups such as The Narrow and Soil 7T7. They have worked with and produced for artists such as Sifiso Sudan, Tumi, Capricorn (a Norway based artist) and Solo. As well as have made tracks for two compilations scheduled to be released 2004. One belonging to In Time records, a New York based label and the other a product of DJ Bionic, an accredited South African DJ. At current they are finalizing the release of their initial album and are still aspiring to accomplish many set goals original and new, Loose Cannon remaining the concept.
LUSCIOUS
MABI TOBEJANE FT RUDEBOY
Oppikoppi 10 is the hearth that seats the melting pot of the old with the new this year. The stage is set to be ablaze through the merging of two giants- Mabi Thobejane (venerable musician and veteran of bands like Malombo and Sakhile) and Rudeboy Paul (Radio Dj, Poet, Producer, Entrepreneur…). This is sure to thrill as this marks the creation of a new age sound and the inauguration of a brand new era.
It all started with a desire to meet thee 'Conga King', a man he so admires and Rudeboy Paul saw his dream realized through Rudeboy Productions forming ties with MELT 2000. But it was with performing at Oppikoppi that an idea for a collaborative effort with the 'King' was cultivated. Apart from the age difference, these two men share a love for drum playing and African music among other things. Rudeboy saw an opportunity no man could lose.
MANAGE A TROIS
Manage a trios is one of the youngest bands submerging from the Pretoria music seen. Previously known as Aurial's Habit, this three piece band have been together since last year October, and after one or two lineup changes Aurial seems to be settling down with Garth de Meillon on bass and Jako on drums. This is the same lineup that played at the recent easter festival. Manage a trios is a blend off pop, rock and even a hint of R&B that is rounded of with smooth poetic lyrics from Aurial.
MESADOTH
Mesadoth; a group of outcast Viking who were thrown from their own village for displaying extremely overly destructive and malicious behaviour. This group of Vikings were then forced to form their own separate clan called The Mesadoth. Based in Boksburg, this band was formed in 1995 with a traditional trash metal style of music. To date they have played 95 different venues all over South Africa with a total of 163 live performances.
MINI DA MINX (DJ FROM CZECH REPUBLIC)
MXO
Born in Kwa-dwesi, Port Elizabeth, MXO has been in the game for more than a while now. MXO has gone as far as opening and performing alongside grand artists such as Blk Sonshine, Brenda Fassie, Moses Molelekwa and more. After creating Roots in 2000 with Sliq the duo began performing at various gigs such as the Jazz Arts Festival 2000, OppiKoppi, Splashy fen and also featured and interviewed by some of Johannesburg's number one radio and television station such as Metro, Y FM, Kaya FM, Etv's Toasty Show and Castle Loud. Just as their career was beginning to take off, MXO and Sliq parted ways to pursue their solo projects. As of right now MXO's music is on high rotation on SA's biggest radio stations. He is talk of the town as his face has been appearing on numerous press publications, his video is on national television. MXO continues to bless audiences with his lyrical content at various events that deal with issues ranging from HIV and AIDS to violence against women. And all this is just a taste of things to come.
MISSILE MYLES (DJ)
Currently Resident at
Die Mystic Boer Bloemfontein
, Former resident at "206".
Louis Botha dr and Dj mixed the 2nd 206 cd release called Heavyweight Beats.
I have played at various one off gigs eg. ICE, Camel Experience and along side international dj' such as John Carter, Cut La Roc and Luke Vibert. I have also Played at about 3-5 other previous Oppikoppi's. I Have assisted with remixing SA Artists such as Mandoza, TK Zee and Moodphase 5. Currently working on an Album of my own and also in Comunity Radio in the Free state.
NINE
With influences ranging from John McLaughlin and Miles Davis to Soundgarden and Led Zeppelin and also covering over nu-jazz and various other forms of cutting-edge dance music, Nine had managed to come up with a sound that was hard and fresh and not afraid to take chances, while remaining inherently funky. If it was obvious, it was avoided, and other avenues were explored, without compromise.
1996 the year of their first OppiKoppi performance.
OLLIE VILJOEN FT BLUES BROERS
PESTROY
Pestroy is a band that kick's ass. They are a real band. They are a band who have paid their dues, and in doing so they have honed their formidable collective skill into a single sonic weapon of mass disruption. There are bands in the world who sound is so distinctive and so innovative that it is impossible to mistake or to ignore. Pestroy is one such band. Pestroy have been spreading the word and fighting the good fight for seven years now, and their live performance has become legendary. At Woodstock 2003, police shut down their set for playing too loudly and creating too much ruckus. In a country starved of international attention, particularly in the Nu-metal genre, Pestroy have stepped up to the plate and have become the de-facto flag bearers of the home grown scene, giving local fans something to hang their hat on. Pestroy's stage presence, razor sharp sound and air-tight technical prowess make them an event-organizers dream (or nightmare if your trying to maintain calm silence) and they have repeatedly headlined the country's biggest festivals including Splashy-Fen, multiple Woodstock's, numerous Oppikoppi's and closed the show at Barney Simon's Farewell (from 5FM).
PIET PLANTER
Piet Planter, algemeen bekend as die Plantmasjien, is 'n liedjieskrywer, blokman, deeltydse boer en laaste maar nie die minste 'n sanger van formaat.
Piet, wat van Migdol in die Wes-Transvaal kom, is ook die eerste Afrikaanse sanger wat sy CD, almal oppie moltrein, in London vrygestel het, nog lank voor dit in Suid Afrika 'n draai gemaak het. 'As seen on TV', terug by Koppi 'by popular demand', beskryf as rou, sielvol, stuitig, maar nooit vervelig nie.
PIPE BONG
The band was brought together in 2001 to perform at the Oppikoppi Tuned festival held at the Fountains and played the following year again at the Plunge festival. Playing at various functions and pubs and a combined performance with Slugs of War the group have come to be known as generally accepted entertainment vir die dronk en merry. For Oppikoppi 10 the band is hoping to bring on entirely new elements into the weekend by combining drums, lead and bass with the bag pipes. If anything it will raise an eyebrow.
PRIME CIRCLE
Prime Circle was formed in December 2001 in the small town of Witbank and have melded themselves into a "prime circle" of entertainment - they co-write all their material! Ross (vocals) the primary songwriter will take an idea to the band and together they all give their input and hits are born. The collective musical experience of the members of Prime Circle is phenomenal! Gerhard (drummer) has played alongside bands like Squeal, Sons of Trout and Sugardrive. Marco (bass) and Dirk (lead guitar) have played at many festivals and gigs around the country over the last 12 years.
READY D (DJ)
REDWOOD (DJ)
He combines turntablism and beat-boxing in his sets to break from the normal monotony of other D.J's and has his sights set on representing South Africa at the "DMC World D.J Championships".
It can surely be said that Redwood is the first D.J. to amaze audiences while beat-boxing and scratching simultaneously using a head piece microphone (must be seen to be believed). This being his trademark that can only be imitated but never beaten. He was also one of the first D.J's in the country to use the "Final Scratch" in his performances adding versatility across the range of genres helps him fit in and accommodate for any situation.
Redwood can also rock crowds with low down deep house and mid tempo so don't write him off in that genre.
RIKU LATTE
Riku Lätti is 'n wyndrinker, maar is nie eksklusief nie. Hy is meer as ses voet lank en kon al van kindsbeen af redelik goed lees en skryf. Sy vriende ken hom goed. Hy speel ook kitaar, klavier en wend 'n poging aan om die saksefoon te bemeester. Dit werk nog nie heeltemal so goed uit nie. Sy lewensmissie is om soveel musiek van die hoogste standaard deur die verloop van sy relatief kort aardse bestaan die lig te laat sien.
RUDEBOY PAUL (DJ)
SHAUN DUVET (DJ)
S.H.U.
A four piece rock outfit that started out in 2001. They've performed with some of SA top bands such Not my dog, Evenflow, Rhutz, Jo Day, The Narrow etc. They've joined forces with Hanu de Jong (The Narrow) to get some recording done. Their music has a very distinctive and fresh sound, hardcore but very melodic and experimental. They have been referred to as a mixture of Muse and Deftones but with their own unique style and approach to the music. Their live shows are very theatrical and highly energetic.
SIMBA MORRI
SMOKEY B (DJ FROM THE UK)
Over seven years of playing everything from funk and rare-groove to old skool hardcore and drum 'n bass has seen smokeyb spinning for some of the most diverse and open minded crowds in the uk and more recently in south africa. As one third of the mix and blend crew he's most at home mashing up the styles to produce a sound 100% his own. 'good vibes is what it's about' says smokey. ' if I'm enjoying it and the crowd is kicking off then anything can happen!'
SOIL 7t7
The Pretoria, South Africa based trio, Soil 7t7, consists of Franco Jamneck (Guitar & Vocals), Jay Bolton (Bass & Vocals) and Bets.V.Z (Drums). The fun loving, music producing unit has been roaming the SA music scene since the autumn of 2000. The four years of their existence have been an amazing rollercoaster ride of playing festivals and club gigs country wide, national coverage and partying up a storm in loads of different locations.
SOUTHERN GYPSY QUEEN
What is there not to love about good old fashioned rock 'n roll, you've got the pounding drum beats, a solid groovy bass line, guitar riffs drenched in blues and some gravelly- voiced bugger singing about fast cars and even faster women. In truth, Rock and blues music is the most pure and honest art form ever born.
The Southern Gypsey Queen hail from Molteno, a small town in the Eastern Cape of South Africa. The band have caused quite an upstir in the local music scene with there "in your face, back to the roots, old school, blues-drenched" rock 'n roll. When listening to the band you can hear the AC/DC, Led Zeppellin and Hendrix influences in their rock songs and the Muddy Waters, John Lee Hooker and Stevie Ray Vaughan influences in their blues songs.
Unlike most modern groups, the Southern Gypsey Queen are at their best playing live, whether it be a huge festival stage or a small bar on the back streets of nowhere. You will never leave an S.G.Q. show feeling dissatisfied. The S.G.Q are a full-time touring band who have played in every province and city in South Africa.
The Gypseys are also releasing their second album, which will be under Wolmer Records in September 2004. The album is being produced by Jack Hammer front-man, Piet Botha, and Lani vd Walt of Not My Dog, so you can expect the album to be a real celebration of rock 'n roll in all its decadence.
SPRINGBOK NUDE GIRLS
The Nude Girls are an amazing phenomenon. One moment they're a sleek monster stalking your half-awake dreams, teeth grazing the air, leaving the faintest trace of sulphur; the next moment they're a Matric Dance band, bursting with laughter and sincerity, having an insanely good time... They bounce from no-compromise adrenaline-crazed metal to loping, rolling pop-rock and then bounce back to sweetly seductive ballads.
SQUEAL
Squeal, one of the bands that ignited the South African music explosion of the mid '90s with their unique blend of driving rock and haunting melodic lines, is back!
The all-new line up retains the dynamic frontman/guitarist David Birch, bursting with a rock energy that captivates and mesmerises all who fall under his spell. Joining him on guitar is Peter Babol, the crazyman guitarist from Durban outfit Lounge Act. Peter adds a new dimension of texture to the sound of the band, complimenting David's guitar work with melodic lines in a style all his own. The rhythm section of the band is punctuated by the accurate, clean and hard-hitting style of Raymond Heesen, ex Blind and Sideshow, combined with the big pumping bass of Angus Kerr.
The band has always been about the fun aspect of rock music, and the new line-up has updated the sound of the band from a traditional rock idiom to the modern, with sophisticated back-beats and unexpected harmonic twists. But the sound is still unmistakeably, uniquely Squeal. Expect to be blown away. Expect to enjoy the hits you know and love. Expect to be surprised.
STIJN (DJ FROM BELGIUM)
Stijn's extravert yet funkily spontaneous stage act and his honest-but-passionate compostions have helped him sexify crowds, both headlining and as support act of Goldfrapp, Daan, Mocky or Gonzales. Recent solo gigs include dates in Amsterdam (Paradiso, Melkweg), Berlin (Magnetclub, Club Rio), Paris (Batofar, Pulp, Nouveau Casino), Ghent (Culture Club, Boomtown), Antwerp (Kaaiman, the Scheld'Apen squat) and Brussels (AB, Athanor). All audiences were wonderful!
Stijn also acts on stage, in movies and video clips and in radio and tv commercials. He equally indulges in experimental filmmaking, and together with Dutch filmmaker Joke Liberge, he has filmed and edited the 'making of' documentary of Tom 'dEUS' Barman's "Any Way The Wind Blows" movie. Stijn also deejays on a small scale and has furnished music for various arts projects, e.g. "Mobile Phonics" (Z 33, Hasselt), "Stijn&zo" (Zuidas, Amsterdam), "925" (Nadine / Plateau, Brussels). Fan-dabi-dozy!
SUGARDRIVE
We could knock out another clichéd band biog to let people know that this is the great new and improved version of Sugardrive. We could write a list of accolades and achievements, laced with sentiment…But no, we're going to do our talking with the music, a great improvement on the desperate nostalgia characteristic of most bands who stand accused of having been around the block. Sugardrive is not here to reclaim any titles…they're not here to rest on any laurels…assume nothing…expect anything…Either way, you'll be hearing from Sugardrive.
SYD KITCHEN AND MADALA KUNENE
BAFO BAFO is the exciting cross-cultural collaboration between Madala Kunene and Syd Kitchen; two of South Africa's most enduring musical sons.
Their distinctly individual guitar styles and their ability to naturally fuse cultural elements from the diversity abundant in multi-ethnic South Africa, creates a musical landscape that is magical and absolutely unique. The musical tapestry that BAFO BAFO weaves emerges from the synthesis of both musicians' diverse contributions. Syd Kitchen's eclectic use of musical elements that traverse everything from Celtic, Afrikaans, jazz, Cajun, Eastern and African influences is balanced and complimented by Madala Kunene's uncanny ability to develop a Maskanda groove that burrows itself into your consciousness. Kitchen plays nylon and steel string acoustic guitars, recorders, hosepipe flute, percussion and sings. Kunene plays steel string acoustic guitars, mouth bow and sings. All the music is organically co-written and sung in Zulu, English and Fanigalo (urbanslang).
Please visit www.bafobafo.co.za o listen to soundclips and for more in depth information.
THE BOOGIEMAN (DJ)
THE COMRADE (DJ)
THE MOST AMAZING SHOW
Dit is inderdaad moeilik om jou 'n meer soomlose simbiose tussen fisiese teater, stand-up en kabaret in te dink. En dit alles netjies saam gevat in die tradisionele televisie tydskrifprogram formaat. Nog meer onwaarskynlik is die massiewe herlewing wat dit sou veroorsaak vir poleyester en paisley. En asof hierdie modesondes nie genoeg is nie het Corné en Twakkie nou boonop die "mullet" haarstyl weer van voor af populêr begin maak… Inderdaad, na slegs 'n jaar het The Most Amazing Show reeds so 'n geweldadige indruk gemaak in Kaapstad en Johannesburg, dat terwyl trendy jong mans orals skielik gryp na die skeermesse om weer daai onmiskenbare McGuyver styl van ouds te verewig op hulle koppe, val vrouens en meisies van alle ouderdomme letterlik oor mekaar om by kultus helde van T*M*A*S uit te kom.
T*M*A*S nuwelinge byOppikoppi kan uitsien na 'n superpropvol aflewering van amazingheid wat die hoogs aangeskrewe kontemporêre dans stuk "The Braai Chop of Desire", 'C & T by die movies' ("Ons kyk dit vir jou… in case dis k*k"), groep hipnose, and baie doppe by die kroeg gaan insluit. Sien julle daar!
THE NARROW
The Narrow emerged onto the South African performance circuit shortly after inception in 2002, and has subsequently laid an impressive footprint nationwide by means of national club shows and festival appearances. The bands first radio release: 'The Bandit' saw a number one position on 5fm's modern rock chart, with their second single 'Gracious Creature' destined to follow suite. On a national campus radio level the band already boasts four number one hit singles.
TIDAL WAVES
Tidal Waves was formed in 1998 by Jacob [guitar-harmonica, vox] and Sam [drums, vox]. They started gaining followers after playing at the biggest festivals like Oppikoppi, Woodstock and opening for the Waillers, Culture and Burning Spear from Jamaica when they were touring Africa. The band has released two albums, HARD WORK and HARMONIJAH. Tidal Waves' music has been described as Original Music for Original People which is Afro-roots-rock-dub-reggae.The band is currently working on a new album which will be recorded soon and will be released this year.Tidal Waves has gained a new following by playing Afrikaans songs which will be on their new album[LEKKER-LEKKER DANS].
Tidal Waves will launch their new single, Lekker Lekker Dans at Oppikoppi.
TRIGGERFINGER (BELGIAN)
Loud and cool but very sexy roots rock. Triggerfinger, gives rock-n'-roll that stubborn twist that hits you right in the face. It wasn't easy to capture their mind-blowing live set onto CD but they did it anyway and released their first album In Belgium at the end of January 2004.
TSEPO (DJ)
Piet Planter

TUMI AND THE VOLUME
Tiago a guitarist with more hair than face, Dave the consciously inconspicuous Jewish bassist, Paulo the vigorous face-contorting Mozambiquean drummer, and Tumi a roly-poly twang-festooned Muslim emcee.
This ladies and gentlemen is Tumi and the Volume, arguably South Africa's most electric performers. In just over a year the group has managed to create a distinct musical accent that includes blends of samba, swing, hip hop, reggae and poetry that speaks to the unique reality of the South African experience and still relates to the world in that universal way that only beauty can. Created from a jam session that saw the poetic prowess of Tumi blend in perfectly with that of a boundary stretching new collective of musicians, the result was what we know today as the only reason to go out on a foggy winter night drizzling with acorn sized hail.
TYBURN
Tyburn was formed in Johannesburg, South Africa in 2001. In a very short time they have achieved goals that new bands only dream of, but few get to realize. Not only have they built up a big underground following, but they have performed at South Africa's premier music festivals, namely Oppikoppi & Woodstock. They were chosen as main support acts to two international bands touring South Africa as part of their world tours (The Haunted & Entombed). They have received radio play on 5FM (Barney Simon) with their Demo/EP entitled "Until the End of the World…". With their goals set and the studio time booked to record their first full length album in September of this year, things are really looking promising for this South African band. Putting in extra time in the band room, one can expect Tyburn's most blistering performance at this year's Oppikoppi 2004 Music Festival.
VALIANT SWART
Valiant Swart en sy band is al op die SA musiektoneel sedert Februarie 1990. In hul tienjarige bestaan het die "boererockers" reeds vyf CD's gemaak en oor 'n honderd nasionale toere gedoen. Daarby het hulle al ver oor 'n duisend vertonings in klubs en kroeë gelewer, asook dosyne optredes by feeste landwyd: Oppikoppi, Wingerdstok, Houtstok, Grahamstad, Up the Creek, Hangklip, Rustler's Valley, Oudtshoorn, Splashy Fen, verskeie kampus-joolfeeste, noem maar op; hulle was daar. Op die verhoog is hierdie ouens 'n belewenis. Kragtige, kitaar-aangedrewe rock word afgewissel met sielvolle blues-ballades, Boland-styl. Vra maar enigiemand wat al saam gedans het: Valiant-hulle skop gat.
VAN DER WANT/LETCHER
Van der Want/Letcher haven't played together for two years. Only Oppikoppi with its implied promise of two dozen free Jagermeisters could bring them together again. Chris has spent the past two years in London, gradually becoming a Doctor of Music. Matthew has been defending persons of dubious moral fibre at Jeppe District Court. It should be an interesting set.
WENDY NEW
Music for the heart and soul - magnetic melodies and power lyrics driven by gritty sweet guitar hooks - this is 21st century songwriting of note.
Singer/songwriter WENDY NEW has hit the local and international music scene with a sound all her own. Born in South Africa and a resident of New York City for many years, she has been playing guitar and writing songs since she was 8 years old.
She has appeared at popular music venues all over the world including New York, Australia and South Africa. She has collaborated with electronica group 310 and has had songs of hers feature on film soundtracks and on Coca-Cola Popstars.
Her songs are a unique synthesis of pop, world, hip-hop, folk/rock and electronica genres while lyric images span the globe, with magnetic gritty sweet melodies and kickarse grooves.
Her recently released CD Dissolve in the Sun, is a culmination of her myriad music and songwriting talents. Wendy New is not to be missed for an original sound and performance experience. Check out www.wendynew.com for more info.
WICKHEAD
Wickhead is a 5-piece rock band built on blood, sweat, tears and a strong brotherhood of love, respect and friendship. The band has worked relentlessly for 3 years on their passion - the music. Mark (guitars) first met Bronic (vocals) in 2000 and his crazy antics soon sparked off a friendship and partnership that would fuel the initial fire that became Wickhead.
After extensive pre-production and finding the right members, Wickhead began performing in August 2001. Since then they have built up from a small fan base to a very strong following. Wickhead ranges from heavy energetic rock, to melodic acoustic songs that the audience inevitably take home with them... it is rare for an audience to walk away disappointed.
WONDERBOOM
WONDERBOOM is a rock band that has lived the dream that many have aspired to.
A phenomenon that has created life on stage and off, WONDERboom prides itself in the fact that they have created a style of their own by embracing all that is around and turning it into Rock 'n Roll.
They write and perform songs about love, drugs and other various scenarios.
All about the power, WONDERboom never cease to turn any slow ballad into a massive stomping hit by always giving it full throttle