Skilpoppe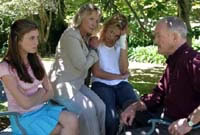 Die lewe is maar moeilik

Skilpoppe is a South African Afrikaans feature film based on the award-winning novel of the same name by Barrie Hough.
Skilpoppe tells the story of Anna Meyer, a schoolgirl who has recently been awarded the role of Juliet in her school production of "Romeo and Juliet". Her apparent inability to embrace the darker aspects of this role is a symptom of the turmoil she is experiencing in her real life – turmoil caused by her gay older brother's suicide a few months earlier. The story traces her attempt to hold her family together while ensuring that she herself does not fall apart.
The Meyer family's inability to deal with their tragedy leads to repressed emotions and literal flight from the problem. Anna's parents leave for a European trip while her older sister, Elise, seeks the blissful void found in the drug, crack. Anna is left to contend with Elise's downward spiral and the presence of her shady boyfriend, Julian. Her strongest ally is Ching-Kung – her brother's Taiwanese lover – whose presence is strongly resented by her parents.
As Anna tries to hold the home together, the rehearsal process of playing Juliet serves as a catalyst for her own buried feelings of guilt and remorse to come to the surface. Add into her dilemma a burgeoning romance with her real-life Romeo, and Anna soon realises that even though she tries to display maturity beyond her years, she is only a seventeen-year-old girl – a girl who is not coping. The return of her parents and her opening night force Anna to confront her own role in her brother's suicide and set the stage for an emotionally cathartic finale.
Skilpoppe taps into the zeitgeist of the South African youth – where tragedy is a part of life and growing up can be a brutal but beautiful experience. This is a story that has great appeal to a youth audience across cultural and racial boundaries (reflected in the fact that the novel continues to be prescribed as a set work for all language groups in secondary schools nationwide). Losing a family member to suicide is a concern felt by families in every community. Skilpoppe is a cautionary tale about the breakdown of communication that is caused by fear of cultural, sexual or ideological differences, and of the devastating aftermath wrought by this. It also suggests that healing can take place when these lines of communication are opened.
Skilpoppe is directed by Andre Odendaal from a script by Lizz Meiring, who also takes a leading role as Anna's drama teacher and confidante. Talented newcomer Kate Ascott-Evans takes the pivotal role of Anna. She is supported by two legends of South African stage and screen, Marius Weyers and Sandra Prinsloo, who play her parents. Other key roles are filled by Paul du Toit, Kenneth Fok, Therese Benade, Makgano Mamabolo and June van Merch.
Skilpoppe the novel was first published by Tafelberg in 1998. It is an insightful, compelling and moving look at a South African family tragedy, seen through the eyes of a seventeen year-old girl. Since its publication, Skilpoppe has received three literary awards including the Sanlam gold prize for Youth Literature. It has been nominated for the IBBI International Youth Literary award and is currently in its fifth printing.
Penguin Films is adapted the novel into a feature length made-for-television film as part of M-Net's Movie of the Month initiative. This initiative was created by M-Net to give a boost to the local film industry and commission eight new local feature films. Skilpoppe was one of the eight projects chosen from over one hundred entries. The screen adaptation was done by accomplished actress and playwright, Lizz Meiring.
The marketing bit:
Skilpoppe follows in the tradition of films like "Y Tu Mama Tambien" and "Billy Elliot" as a depiction of youthful experience in a realistic, sometimes humourous, often harrowing and uncompromising manner. It deals with universal issues that include suicide, drug abuse and homophobia in a specifically South African context.
Skilpoppe is funded by M-Net, Sasani and Penguin Film Services and produced by Roberta Durrant of Penguin Films. It was shot in Cape Town.