Fokof!

It's time again for South Africa's
Oppikoppi
festival, and like the multi-cultural democracy, celebrating it's 10th year anniversary. And that's no coincidence.
Before 1994 there was a dearth of music and cultural festivals in South Africa. Yes, there was the odd jazz festival and events like Grahamstown Arts fest. But in 1998, a cultural revolution hit the country with the alternative Afrikaans music movement's Voelvry tour. A ragtag army of hedonists, pseudo-anarchists, outsiders, poets, junkies and rock and rollers had come together in opposition against the morals, politics and the restrictive cultural hell that was SA under the Nationalists. This movement culminated in the Houtstok (Afrikaans: Woodstock) concert outside Pretoria.
Soon there were concerts all over South Africa. In 1990 Rustler's valley kicked off, and became a haven for tied dye hippie types and trance music. In KwaZulu Natal, Splashy Fenn catered for folk and jazz.
And then came Oppikoppi. It's genesis was the end or rather the maturation of the Alternative Afrikaans movement. It's no coincidence that the old movement's vanguard Koos Kombuis and Valiant Swart played at the first Oppikoppi event, and will be there again this year.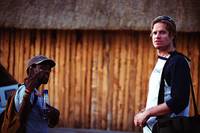 Getting ready for the koppi

Oppikoppi today is a mixed bag. From artists favoured mostly for their nostalgic and local flavour, to those that can hold their own on any stage. Add a sprinkling of international acts and viola! - it's cooking. Because of its roots, it features a heavy dose of the best contemporary Afrikaans music. Expect a wide range of music styles: Rock, Punk, Jazz, Blues, Folk, Electronica, the South African house phenomena
Kwaito
, Hip-Hop, Break beat, Industrial, World music and flavours in between.
Life is lekker on the koppie

Oppikoppi is more than just another music festival, but a truly amazing and in-your-face event. A festival born in freedom. A festival unlike the over-managed and over-crowded corporate European and US events. It takes place on top of and around a "koppie" - (Afrikaans for hill), in the semi-wild Bushveld 160km North of Jo'burg. Expect thorn trees, snakes, big spiders and the odd antelope.
The festival began in the bar on top of the koppie, and has been going from strength to strength. This year it boasts its best line up to date.
See the
full line up here
...
The
Oppikoppi website
.